Mediterranean Orzo Vegetable Pilaf
Prep 10 mins
Cook 15 mins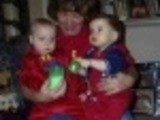 This pilaf is flavored with white wine and spiced with mediterranean vegetables such as; olives, capers and chickpeas in addition to the regular onion and bell pepper. Makes a wonderful side dish.
Directions
In a 10 inches skillet over medium-high heat, heat the olive oil, then stir in the uncooked orzo, and green onion.
Cook, stirring frequently, until the orzo is lightly browned, about 3 minutes.
Stir in the broth and wine and heat until boiling, then reduce heat, cover and simmer about 6 minutes, stirring occasionally.
Stir in the peppers, chickpeas, olives and capers, and cook covered another 6 minutes, stirring occasionally, until most liquid is absorbed.
Pour into a bowl and sprinkle with the 2 T of parmesan cheese.
Reviews
Most Helpful
A tasty, simple to make side dish with great Mediterranean flavours. I added a little extra white wine. Served it with BBQ pork souvlaki!
This was pretty good, but admitedly I altered the recipe to suit my tastes. I like wine for drinking, but have never cared for it's flavor in food so I left it out. I know it's supposed to end up a "Pilaf" but I followed the recipe as is except for the wine, and after it was cooked I substituted 1/3 cup of white wine vinegar for the wine I left out durring the cooking phase. I stirred the vinegar into the already cooked pilaf and chilled it. Thus serving it as a salad instead.
Outstanding! The orzo was still a little creamy which reminded me of risotto, but a lot less trouble. The flavor was great. The whole family had seconds. I served it with a grilled pork loin rubbed with Mean's fennel seasoning. What a meal! Thanks for sharing this creation. We'll definitely make it again.