Meat 'n' Cheese Stromboli
Karen..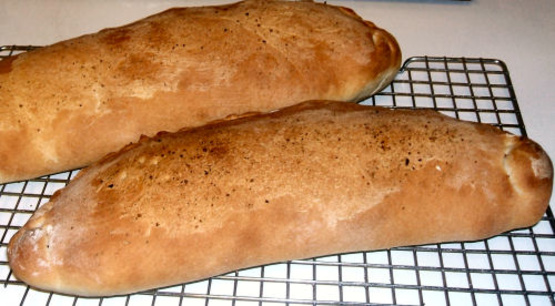 Great hit with my kids at camp, I added broccoli and substituted co-jack cheese for the cheddar, I am sure you can customize it to your liking. This is a Taste of Home July 2006 recipe.

This is a great recipe!! Everyone likes it here. The kids like to comeup with different things to put in it. We like that it makes enough for lunch the next day.
1

medium onion, sliced and separated into rings

1

medium green pepper, sliced into rings

1

cup broccoli, steamed to tender (optional)

1

tablespoon butter

2

loaves frozen bread dough, thawed (16 oz each)
1⁄2 lb turkey, thinly sliced
1⁄2 lb hard salami, thinly sliced
1⁄2 lb deli ham, thinly sliced
1⁄2 lb mozzarella cheese, sliced
1⁄2 lb mild cheddar cheese, sliced
1⁄2 teaspoon italian seasoning
1⁄4 teaspoon garlic powder
1⁄8 teaspoon pepper

1

egg, beaten

1

teaspoon poppy seed
In a large skillet, sauté onion and green pepper in butter until crisp-tender; set aside.
On two greased baking sheets, roll each loaf of dough into a 15x12-inch rectangle. Arrange the salami, turkey, ham, and cheeses lengthwise over half of each rectangle to within 1/2 inch of edges.
Top with onion mixture and broccoli (if used).
Sprinkle with Italian seasoning, garlic powder and pepper.
Fold dough over filling and pinch edges to seal well.
Brush with egg and sprinkle with poppy seeds.
Bake at 400° for 20 minutes or until golden brown. Cool for 5 minutes before slicing.