Meat-Lover's Slow Cooker Spaghetti Sauce
Boomette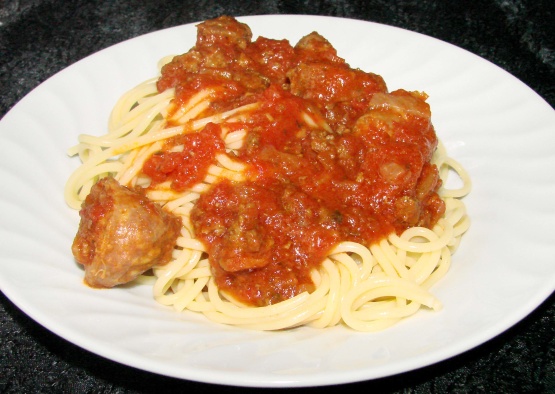 I love preparing this sauce in the morning in the slow cooker and letting it cook on low all day. When I get home, I just boil some pasta and serve with a salad and some garlic bread. My family loves it.
This sauce is really good. Even my son loved it. I sliced spicy italian sausages, that way I can omit them for my son. And we like to have big bites of sausages. I used a red onion and no oil to brown the onion and sausage cause I used a non-stick skillet. The seasonings are perfect. I used just a bit less of garlic powder. It smelled great while it was cooking. Thanks Lainey :) Made for Photo tag
Heat olive oil in skillet over medium heat; cook and stir onions and sausage, until sausage is browned, about 10 minutes.
Transfer the sausage and onions to a slow cooker.
In the same skillet, cook and stir the ground beef, Italian seasoning, 1 t of garlic powder, and marjoram, breaking the meat up as it cooks, until the meat is browned, about 10 minutes.
Transfer the ground beef into the slow cooker.
Stir in the tomato sauce, tomato paste, diced tomatoes, stewed tomatoes, thyme, basil, oregano and 2 t garlic powder.
Cook on low for about 8 hours.
About 15 minutes before serving, stir in the sugar.
Serve hot over pasta.