PJ991092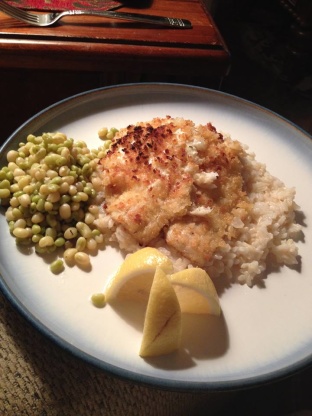 Really simple recipe that even pleases the non fish lovers among us! My favorite fish to use is tilapia, but any mild, white fish will work nicely.

This was sooooo delicious, It tasted like it came from a restaurant. The only thing i change was i used 1/4tsp onion powder in replace of the onions because my boyfriend doesn't like them. I also put a little more old bay in because im from Maryland and thats how we do it lol. But it was AWESOME!
Preheat oven to 400°F.
Place fish, in a lightly greased 9x13 baking dish.
In a bowl, combine mayonnaise, butter, onion, cheese, lemon juice, Old Bay, and pepper. Mix until a thick paste is formed.
Spread mixture evenly over fish filets, then top with bread crumbs.
Bake for about 10 minutes, or until fish is flaky.
To finish cooking, place fish under the broiler, for another 2-3 minutes, or until fish is golden brown.