PJ99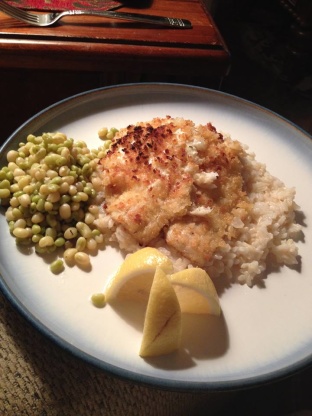 Really simple recipe that even pleases the non fish lovers among us! My favorite fish to use is tilapia, but any mild, white fish will work nicely.
Baked perfectly, fish was moist with delicious topping. I had a 1.25 lb half of Walleye, my favorite fish. I baked it for 15 minutes and broiled it for 3 minutes from the lowest position in the oven. Not having Old Bay and liking suggestions of other reviewers, I added a bit of steak seasoning and garlic powder, used Panko crumbs and basted the topping with butter. It is easy to prepare... no dipping in flour, egg, and crumbs, no frying, and the result is delicious. As my piece of fish was 17"-18" long, I used my stove top double burner grill, greased. The fish did not stick making clean-up easy. Being easy and delicious, this is an excellent dish to serve company.
Preheat oven to 400°F.
Place fish, in a lightly greased 9x13 baking dish.
In a bowl, combine mayonnaise, butter, onion, cheese, lemon juice, Old Bay, and pepper. Mix until a thick paste is formed.
Spread mixture evenly over fish filets, then top with bread crumbs.
Bake for about 10 minutes, or until fish is flaky.
To finish cooking, place fish under the broiler, for another 2-3 minutes, or until fish is golden brown.