Mashed Potato Casserole With Gouda and Bacon
lazyme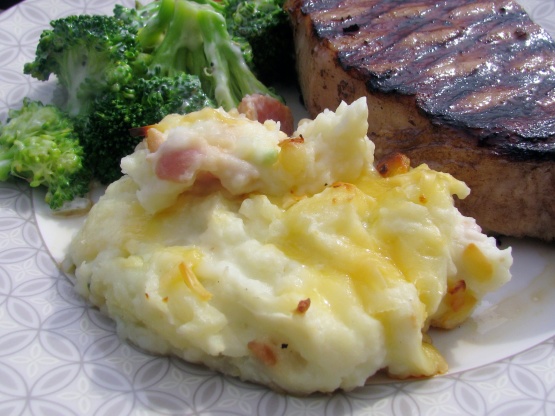 Wow! This recipe is from Bon Apetit and this casserole pairs well with pork loin or a roasted chicken. Heck, the casserole is a meal in itself. The flavor of bacon and gouda are wonderful together. be sure and use applewood bacon and smoked gouda for the best combination.

Top Review by lazyme
Awesome! I followed directions to a T other than reducing the number of servings for 2 of us. I love smoked gouda and this was a great way to incorporate it into a meal - rather than my usual cheese and crackers appy. lol. Thanks so much for sharing this total keeper. Made for your win in the Football Pool. Congrats again!
Grease 13 x 9 x2 inch pan or spray with cooking spray.
Cook bacon in a large heavy skillet until browned; transfer to paper towels and drain.
Chop bacon and place in a medium bowl.
Chop green onions, green parts only and add to bowl.
Shred the gouda cheese; set aside.
Peel potatoes and cook in a large pot with enough water to cover; sprinkle with salt.
Cover and boil with lid ajar until potatoes are fork tender, about 15-20 minutes.
Drain well and return potatoes to pot. Add sour cream, milk and butter.
Using a potato masher, mash until almost smooth.
Add 1 1/2 C shredded gouda cheese and 1 C bacon and onions.
Spread potatoes into casserole and season with salt and pepper.
Add remaining gouda over the top.
Bake at 375 F until the cheese melts, about 30 minutes.
Sprinkle with remaining bacon and onions and serve.