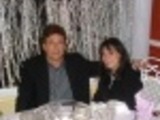 There is a lovely little French cafe I have been to that serves the best olives on the table. The secret is in the marinade. Instead of purchasing seasoned olives from your local olive bar, try seasoning them yourself. You'll be very pleased with the outcome. Also makes a lovely gift.
Directions
Toss olives with oil in mixing bowl. Add remaining ingredients except thyme sprigs and toss to combine. Transfer to crock or serving bowl and let stand, tossing occasionally, until ready to serve. Garnish with thyme sprigs just before serving.
Most Helpful
I whipped up last night and let them get all happy together in the fridge all night. Just had some with lunch and they are very tasty indeed. I especially enjoyed the addition of the fennel. Be sure to use good firm olives.