Mama's Methodist Fruit Salad
Kats Mom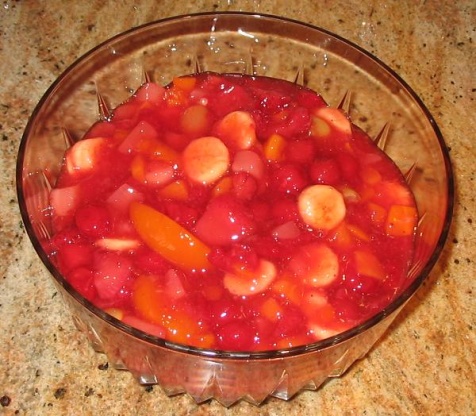 This dish got its name because every time we had a church picnic, lunch or supper (eatin' meetin' as we so fondly call them) my mother was asked to bring this fruit salad. It is so easy, but the blend of ingredients is SO good!

Easy and delicious on pancakes! I drained the fruit cocktail. Since I had to use frozen strawberries, I added them at the last minute and my co-workers scarfed this salad down! I am sure that cantaloupe and fresh grapes would be lovely additions, too. Thanks, Sherrybeth. This is a recipe I will come back to time and time again.
Dump everything in a serving bowl.
Stir well to blend.
Refrigerate at least 3 hours before serving to allow flavors to blend.
To all our friends and family who have requested this recipe, YES IT IS THAT EASY!