Make Ahead Garlic Mashed Potatoes
Derf2440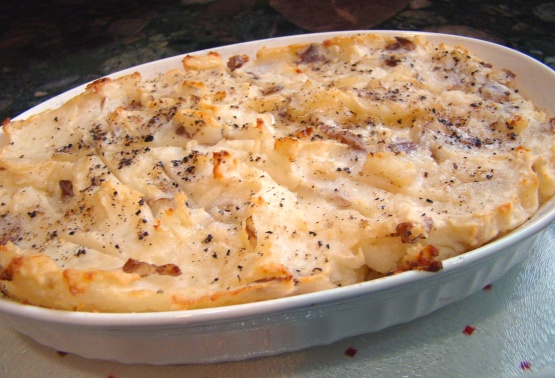 This is a wonderful recipe I found in a Betty Crocker magazine. It is a great comfort food with the added make ahead benefit. It is great with any roast or poultry dish.

Top Review by Bergy
Everyone enjoyed these potatoes - I cut back on the milk & cream - they just didn't need quite that much. Pouring the last bit over top for the final baking is wonderful it forms - not a crust but gives a nice finish to the potatoes.I love doing them in the morning and then just pop them in before dinner This dish was served with steamed smoked Black Alaska Cod, Savory Brussels Sprouts & Ginger Glazed carrots The dinner was demolished Thanks Kate in Ontario 15 April 08 Made & enjoyed again added a photo this time
1360.77

g potatoes, peeled and cut into chunks (about 9 medium)

6

clove garlic, peeled

177.44

ml milk

118.29

ml whipping cream

118.29

ml butter

0.25

ml salt & pepper
Place potatoes and garlic in medium saucepan with enough (salted if desired) water to cover.
Cover and heat to boiling, reduce heat and simmer until tender (about 20 minutes).
Drain and shake potatoes to dry over low heat.
Mash potatoes and garlic in pan until lump free (my personal preference is to use a potato ricer).
Heat rest of ingredients stirring over low heat until butter melts.
Reserve 1/4 C of mixture.
Add rest of milk mix in small amounts stirring after each addition until light and fluffy (amount needed depends on type of potato used).
Grease a 2 quart casserole and spoon in potatoes.
Cover and refrigerate up to 24 hours.
Heat oven to 350.
Pour reserved milk mixture over potatoes and bake uncovered 40-45 minutes or until hot.
Stir before serving.