Main Dish Colcannon (Cabbage, Potatoes and Sausages)
Dantana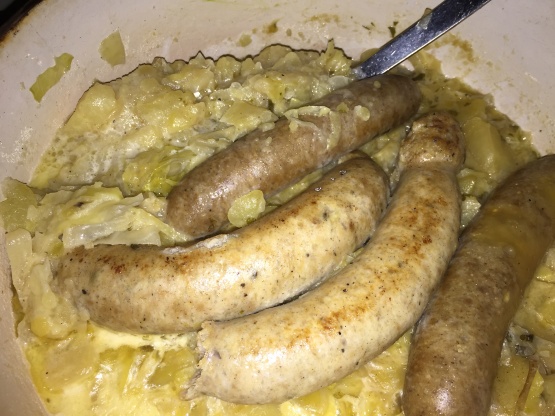 This is a dish that my Scots/Irish grandmother would prepare. Easy on the budget, easy on the cook, stick to your ribs, family pleaser that uses only one very large skillet or dutch oven. It calls for whole all natural ingredients and is ridiculously off the politically correct eating charts! Not for those on a low fat, low carb, low cal, low anything diet. True comfort food! I purchase the sausages from Whole Foods. If you don't want to go to that expense, or you don't have a Whole Foods Market near you, substitute your favorite breakfast sausage. Great St Patrick's Day fare!!!

I enjoyed this delicious and hearty recipe as a belated St. Patty's day meal. I had some breakfast sausage on hand and it was delicious with that but I can see it being even better with real bangers. I forgot parsley at the store and would recommend not leaving it out as I found myself wishing for that bit of herb presence.
In large skillet or dutch oven, brown the sausages in the butter.
Remove sausages.
Add potatoes and onions to drippings in pan and stir to coat.
Add cabbage and parsley and mix well.
Place sausages on top of mixture.
Cover with tight fitting lid and simmer, stirring occasionally until potatoes and cabbage are soft.
Add ale as needed to keep colcannon moist. (yes, you can drink what you don't use for cooking!).
As soon as the potatoes and cabbage are soft, remove the sausages, take a deep breath and add the Heavy Cream to the mixture until it resembles mashed potatoes.
Add salt and white pepper to taste.
Replace the sausages and serve.