Magic Marshmallow Crescent Puffs
CandyTX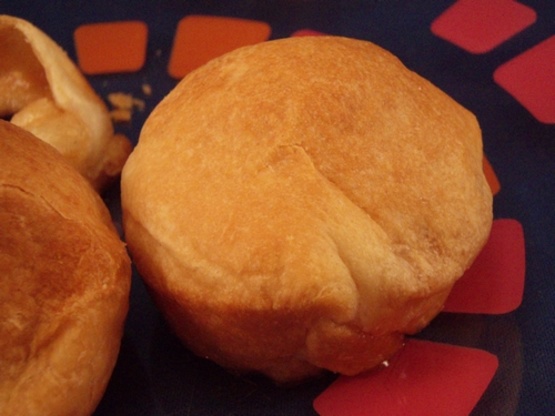 This a real oldie but goodie from a Pillsbury Bake Off Contest. I am shocked that it has not been posted before. All of my kids loved them because the marshmallow vanished during the baking and also because they were delicious.

Mmm, these are so good! I added in some chopped apple, brushed the tops with butter & cinnamon-sugar and it totally reminded me of little fried apple pies! Even without the apple though they would still be delicious. I only did 1/2 the recipe to try it out. I didn't have large marshmallows so I used 1/2 cup of minis. I put the apple & marshmallows in a large bowl, then coated with the margarine, & then with the sugar mixture. On the sugar mix I did 2 Tbsp Splenda plus 1 Tbsp white sugar. It didn't get too messy putting them together but they do get very sticky very quick. I also skipped the muffin liners & didn't have any problems getting them out. By the way, I had probably at least a fourth extra of filling so I might reduce the amounts slightly next time. Using the reduced fat crescents and with my slight changes, this comes up to 3 points each, which they are certainly worth & so much better than the alternative! Thank you so much for this yummy treat!
Preheat oven to 375°F.
Combine sugar, flour and ground cinnamon.
Dip marshmallow in to melted margarine.
Roll in sugar-cinnamon mixture.
Wrap a crescent triangle around marshmallow, completely covering it.
Squeeze edges of dough tightly to seal.
Dip in margarine and place in muffin tin.
Repeat for all marshmallows and crescent triangles.
Place muffin pans on aluminum foil.
Bake at 375°F for 10-15 minutes or until golden brown.
Immediately remove from muffin tins and drizzle with a powdered sugar glaze and nuts if desired.