Maggi Baked Chicken Wings
teresas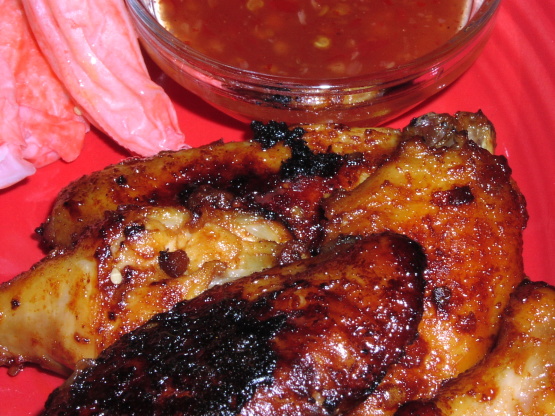 I got this from a Maggi recipe card and tried it out (I omitted the honey because I don't usually like my chicken sweet). Personally, I thought it wasn't THAT tasty but everyone else seemed to like it - it was all gone. Hmmm! What do you think? Try it out and let me know... The recipe naturally calls for Maggi brand sauces for the marinade but you can sub with whatever you have on hand =)

I made this for an asian themed dinner I was having for guests and everyone raved. I made only one slight change which was to grill the wings instead of baking them. I just cannot eat baked chicken wings when there is a sweet sauce involved because they seem to get soggy in the oven. Thank you for the recipe. Also, if you do not like the sweetness of the sauce, try omitting the soy sauce, and double the chili sauce. A good chili sauce is Sirichi I believe it is spelled. Its super hot and super tasty. I served these with a veggie stir fry and white rice. Again thanks so much for sharing!
Mix well all the marinade ingredients.
Carefully pour over chicken wings and stir to coat completely. Leave in fridge to marinate overnight.
Preheat oven to 200 degrees Celsius. Line a tray with aluminium foil and spread chicken wings onto the tray. Be sure to top all the wings with the marinade until it's all gone!
Bake for 1 hour, turning occasionally.
When done, mix together Dipping Sauce ingredients.
Serve the wings hot together with the sauce.