Macadamia Chicken With Orange Frangelico Sauce
Rita1652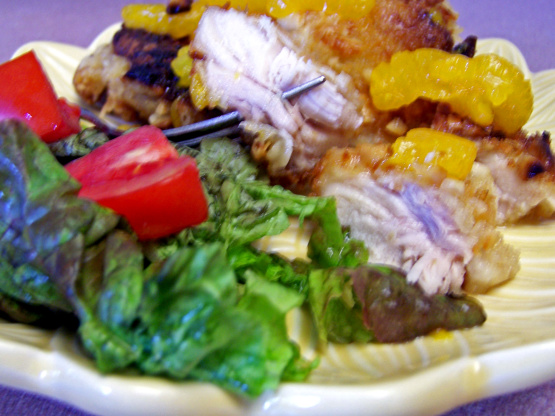 A wonderful fragrant chicken. This is a recreation of a meal that I had at a restaurant.

Very good I did make a couple of changes. I did add milk to the egg, used boneless thighs as for the chicken that was all the changes. For the sauce I skipped the orange juice and broth and found them not missed at all. The sauce did absorb into the coating on the cooked chicken. The mandarin oranges were lovely with the chicken helped cut on the fat from the cooking and nuts. Thanks!
Combine nuts and panko bread crumbs.
Dredge chicken in flour, dip in beaten egg, coat with nut mixture and chill for 1/2 hour.
In a heavy skillet, heat oil and butter and saute chicken over medium heat for 10-12 minutes turning once.
Remove from skillet and keep warm.
Pour chicken broth, orange juice, frangelico, and reserved mandarin juice into pan and heat until boiling.
Cook until sauce is reduced by 1/3. Blend in the butter, 1 tablespoons at a time, until sauce thickens.
Add mandarin oranges and heat through, 2-3 minutes.
Pour over chicken and serve.