Low Gi Creamy Scrambled Eggs
ImPat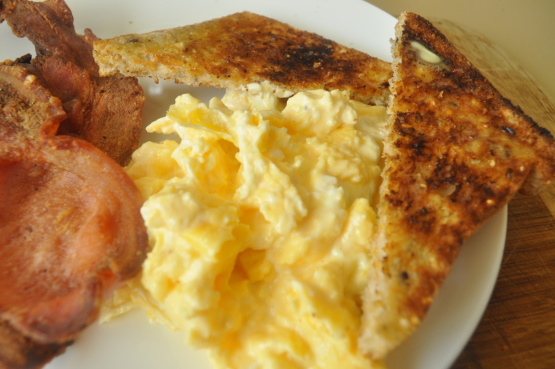 Scrambled eggs on toast was one of my favourite breakfasts but it needed some tweaking to make it low fat and low GI. I have stated granary bread in the recipe I usually use Bergen linseed bread or High fibre seeded bagels (1/2 only) but Rye bread works very well too. The eggs are creamy and moist without having lots of butter in or being undercooked.

Top Review by ImPat
I made 2 serves for the DM and myself serving with wholemeal/wholegrain toast and recipe #351327 by loof. I personally found it a bit too rich even though I used a very low fat cream cheese but the DM thought it was really great so for me I would cut back on the cream cheese by half and I think then it would suit me better. Thank you PinkCherryBlossom, made for Bargain Basement.
Toast the granary bread to your desired browness.
In a sauce pan heat the butter until foamy.
Whisk the eggs with a fork to combine and then place in pan.
Stir the eggs until just setting and then add the cream cheese.
Continue to stir until the eggs have a porridge consistency.
Serve over the dry toast.