Low-Fat "cream" of Tomato Soup
Diana 2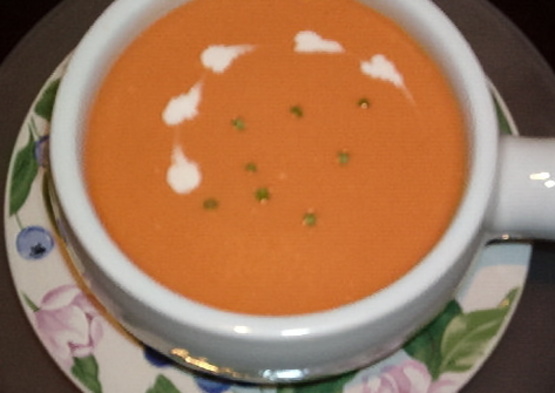 This is a easy low cal dinner. With a grilled cheese (light butter and light or fat-free cheese) and a salad round out the meal. Freezes excellently. Makes a big batch and can easily be doubled.

This is the best tomato soup I've ever had. I omitted the onion, but still made a roux with butter and flour. I used a 46 oz can of vegetable juice, and I didn't add the cream cheese. I tasted it before adding salt & pepper, and I thought it tasted good, but could use some spices. I added some garlic powder, onion powder, and basil. It was delicious! I plan on making this often. We had it with grilled cheese and it was a delicious, filling meal.
In a Dutch oven, over medium heat, saute onions in butter until translucent.
Remove from the heat.
Stir in the flour so that no lumps remain, then slowly whisk in the tomato juice and evaporated milk.
Return to the heat and add salt and pepper to taste.
Cook until just boiling add cream cheese and whisk until smooth.
Serve immediately.
Or cool completely and freeze in rigid containers.
To reheat: Thaw in fridge and warm in microwave or on stoptop.