Low-Fat Cream of Celery Soup With Garlic, Curry & Herbs
robotan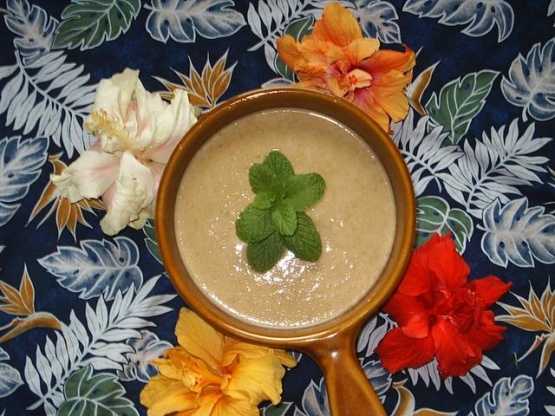 This is my adaptation of a recipe from one of my favorite cookbooks: "Fabulous Fat Free Cooking" by Lynn Fischer. The original recipe is pretty basic and we found it to be a bit blasé (especially if you have a cold or the flu and your tastebuds aren't working for you as well as they should - I've added onion, garlic, curry and some herbs to bring in a bit more flavor. We seem to enjoy it and I hope you will too.

I really like this recipe. It is so simple, yet flavorful. I used 1 tsp of olive oil to saute the vegetables at the beginning before adding the broth. I used 4 cloved of garlic and 2 bay leaves. I also added the bay leaves with the broth. The soup was nice and creamy with distinct celery flavor and very good for the waist.
In a medium non-stick saucepan, combine celery, onions, garlic and vegetable broth.
Bring to a near boil over medium-high heat; reduce to medium-low, cover and cook 12 to 15 minutes, or until celery becomes tender.
Meanwhile, place the cornstarch in a small bowl and gradually whisk in the milk until well blended.
Whisk milk mixture into the saucepan.
Whisk in the fat-free liquid creamer.
Pour the soup into a blender or food processor and process for several minutes until pureed or to your desired consistency.
Return the soup to saucepan and add bay leaf, thyme and curry; cook over medium heat, stirring constantly 4 to 5 minutes, or until soup thickens.
Season to taste with salt and freshly ground black pepper.