Low Fat Confetti Corn Salad
flower7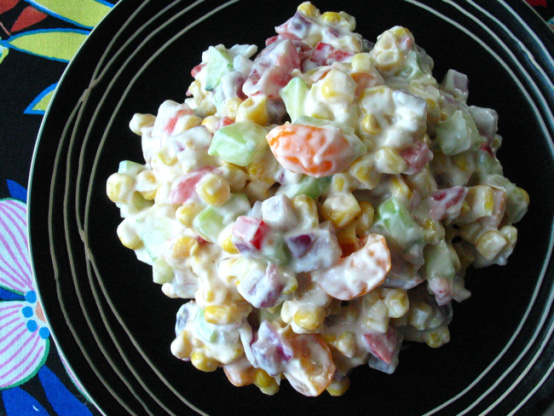 This is great as a side to any grilled meat. It keeps well in the fridge and serves a crowd. Kids love it too!

Oh my is this ever good!! I halved since I was only making for myself but should have made it all! I left out the celery and used red onion, red pepper, and orange and red tomatoes. I absolutely love love love the dressing - it's very tart, which I adore, a little bit sweet, and a little bit spicy (from the mustard maybe?) I really liked the technique of letting the veggies sit overnight and pouring off the accumulated liquid before mixing with the dressing, keeping the salad from getting too juicy. I'm going to a cook-out on Saturday and will be making more of this to take along. Thanks for sharing! [Made for Spring 2013 Pick A Chef]
Chop all veggies to the size of the corn kernels.
Or as small as you desire.
Put in bowl.
Refrigerate.
Mix dressing in separate bowl.
Refrigerate.
Before serving, drain veggie bowl of "veggie" water.
Add dressing.
Serve.