Low Fat Chicken, Corn, and Green Chile Chowder
KateL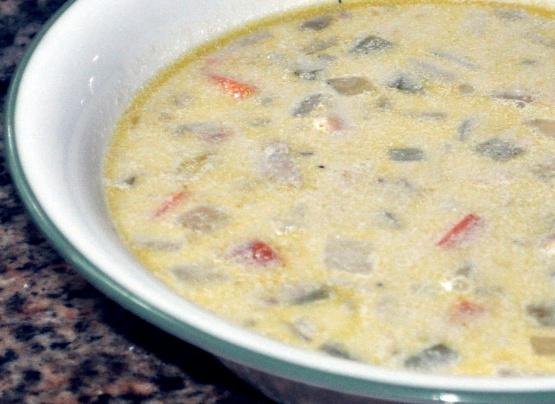 A lightened-up version of a comfort food favorite! I haven't made it yet, but will soon! From the Hamilton, OH Journal News, recipe by Jeanne Jones.

Top Review by KateL
4.5 stars. I had 3 bowls (breakfast and lunch), and DH declared that this was a fine creamy soup (he generally avoids creamy soups) that just needed some Old Bay to add the final spicy kick. I tried that, and agree. By the way, I used 2 Tbsp. canola oil; my cookware needs the oil to saute well. I saved the rest for lunches this week; I don't think this will freeze well. Made for The Wild Bunch in ZWT8 for its trip to Mexico.
Spray a large saucepan with cooking spray, then add onions through garlic and saute over mediun-high heat. Add a little chicken broth to prevent burning and cook 8-10 minutes.
Add corn, chicken, chiles, pepper, and remaining broth. Bring to a boil 2-3 minutes.
Dissolve cornstarch in the half and half, then stir into soup.
Bring to a boil, then serve.