Lime and Beer Pork With Easy Chunky Guacamole
teresas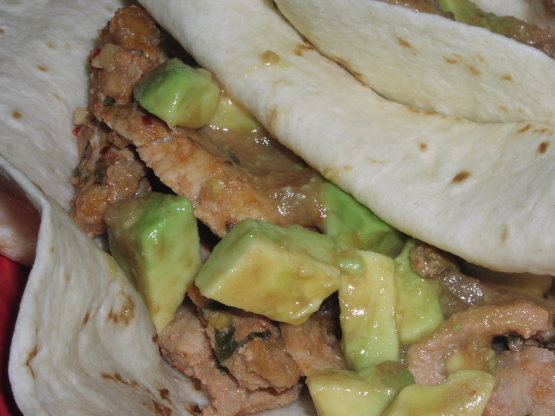 A different way to serve pork that's easy and tasty. Preparation time does not include 3 to 4 hour marinading time. This is from some forgotten magazine clipping from 1998.

Wow! This is very tasty. The Guacamole is what really highlights this dish. The meat is nice and tender with great flavor. But the Guacamole has a nice tang to it. The rice was ok, but a bit on the dry side and it really didn't stand out. Overall a great dish that will be made again. Thanks for posting!
Partially freeze pork; thinly slice across grain into bite sized strips. Place pork in a plastic bag set into a bowl.
Combine salsa, lime juice, beer, garlic, cilantro, cumin, red pepper and black pepper. Pour over pork; seal bag. Marinate in refrigerator for 3 to 4 hours.
Prepare Easy Chunky Guacamole: Halve, seed, peel and cube 2 avocados. Combine avocados, lemon juice and salsa in a bowl. Cover and chill. (can be kept up to 24 hours in fridge).
Wrap tortillas in foil. Heat in a 350°F oven for ten minutes to soften.
Drain pork and set aside, reserving marinade.
Add enough water to marinade to equal 1 1/2 cups. Place in a saucepan and bring to a boil. Add rice. Remove from heat and let stand, covered, for 5 minutes.
Meanwhile, spray a skillet with nonstick coating; heat over medium heat. Add half of the pork. Stir-fry 4 minutes or until no longer pink. Remove from skillet using a slotted spoon; drain liquid if necessary. Repeat with remaining pork.
Spread pork and Easy Chunky Guacamole on tortillas. Roll up and serve with rice.