PASCGal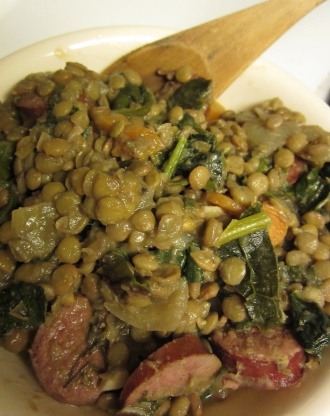 From Safeway Brand Lentils package: "Our tasters gave four-stars to this nutritious and easy to prepare entree. Smokey sausage, lots of spices and fresh greens give it wonderful flavor". I have made this stew a couple of times, each to success. I usually use what I have in the pantry, so it never - comes out exactly the same. I am posting the recipe as written - make adjustments for your own preferences.
In a 6 to 8 quart pot of Dutch oven, heat oil over medium-high heat.
Saute onions, garlic and carrots until soft, about 10 minutes.
Add sausage, lentils, broth, sage, thyme, pepper and salt.
Bring to a boil.
Reduce heat and simmer, covered, until lentils are barely tender, about 20 minutes.
Stir in kale or spinach.
Bring to a boil, cover, and simmer for 10 minutes or until lentils are tender.
Ladle soup into soup bowls.