PaulaG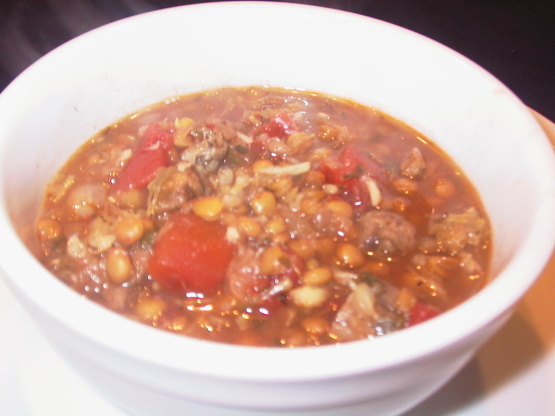 An interesting change from the traditional Lentil Soup which we enjoyed. When I made this I used red lentiles, which I liked but green or brown will also work out well. Adapted from Bon Appetit (January 2005)

CAUTION: ADD THYME SLOWLY After deciding to use some leftover leg of lamb and homemade broth from my freezer (no more than a month frozen), I went in search of a recipe. Found this one. Perfect! Virtually everything else I had fresh from my garden -- onions, garlic, celery, dill, parsnips, tomatoes. I opened a brand new bag of organic lentils and went to work. Everything was swell till I added the thyme (McCormicks, not from the garden, but well within the expiration date). For me, WAY too much thyme! I discovered that too much powdered thyme tastes and smells exactly like mold to me. A bit of Googling told me that I'm not the only one. Maybe it's a genetic thing. To some people (not me) cilantro tastes like soap; maybe to some thyme tastes like mold. Anyway, I believe this is a terrific recipe, but my advice is to add thyme a bit at a time and taste as you go. I seem to be doing okay at neutralizing/overcoming the thyme taste with lemon juice and curry powder. Am determined to prevail, for this seems otherwise a sensational soup for end-of-season veggies! Will make it again with rosemary instead of thyme.
Heat oil in large soup pot over medium high heat. Add lamb, celery, parsnips, onion and garlic and saute for about 15 minutes or until lamb is brown.
Add lentiles and cook one minute.
Add broth plus one soup can of water, tomatoes, thyme and dill weed. Bring to a boil. Reduce heat to medium low and simmer for 40-60 minutes or until lentiles are tender.
Enjoy!