Lentil Loaf With Strawberry Sauce
rpgaymer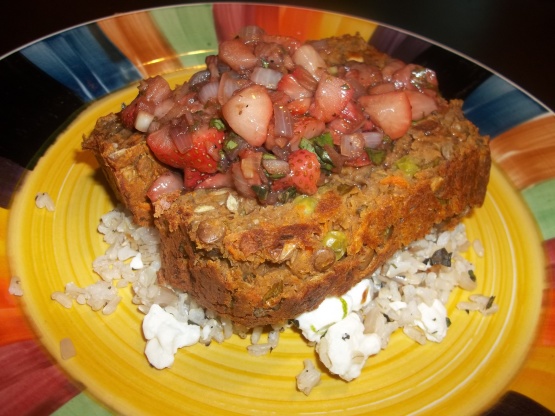 The strawberry sauce makes the recipe. It's not nearly as good without it. Also, it will not look like the mix will fit in the loaf pan when it's waiting in the bowl, but it will! ------ "The sweet strawberry sauce is a perfect contrast to the earthy, fully loaded lentil loaf. Leftovers will keep in the refrigerator for up to five days. Tip: soaking parchment paper in water makes it much easier to mold into the shape of the pan." From alive.com
The strawberry sauce really does make this recipe- delicious. The lentil loaf itself did not have much flavor. Some more seasoning would have helped. It was still quite good with the sauce though. I add some feta on top of the sauce, and served everything over feta-mint brown rice.
2

cups dry green lentils, rinsed and picked over

1

cup flour

1

(5 1/2 ounce) can tomato paste

1

cup mushroom, chopped

1

cup carrot, grated

2 -3

jalapeno peppers, minced

1

cup green peas (frozen or fresh)
1⁄2 cup flat leaf parsley, chopped

2

garlic cloves, finely minced

2

teaspoons dried thyme

1

teaspoon cumin
1⁄2 teaspoon sea salt

2

large eggs, lightly beaten

2

teaspoons grapeseed oil

2

shallots, finely chopped

2

tablespoons sugar (preferably raw)

3

cups strawberries, chopped

2

tablespoons balsamic vinegar
1⁄4 teaspoon black pepper, freshly ground

2

tablespoons basil, chopped
Place lentils and 3 cups (750 mL) water in medium-sized saucepan. Bring to a boil, reduce heat, and simmer until lentils are tender, about 30 minutes. Drain and rinse lentils. Place 2 cups (500 mL) cooked lentils in food processor container and blend until puréed.
Preheat oven to 350 F (180 C). In large bowl, stir together puréed lentils, remaining cooked whole lentils, almond flour, tomato paste, mushrooms, carrot, jalapeno peppers, peas, parsley, garlic, thyme, cumin, salt, and eggs.
Spoon mixture into parchment paper-lined 9 x 5 in (23 x 13 cm) loaf pan, making sure to leave some parchment paper hanging over edges so you can easily lift the loaf out once cooked. Using spatula, spread out mixture, making sure it's well packed down. Cook for 45 minutes.
Meanwhile, heat oil in small saucepan over medium heat. Add shallots and sauté until soft, about 3 minutes. Add sugar and continue cooking for 30 seconds. Add strawberries, balsamic vinegar, and black pepper; cook 1 minute further. Stir in basil, cover pan, and remove from heat.
Cool loaf in pan for 5 minutes. Carefully pull loaf out by lifting sides of parchment paper and let cool for another 5 minutes on metal rack.
Serve slices of lentil loaf with strawberry sauce.