ImPat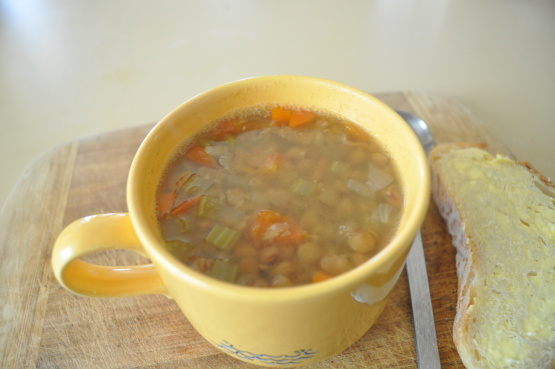 Incredibly flavorful and filling, my whole family LOVED it, and none of us thought we would like lentils! For the vinegar, we used red wine vinegar. If desired, add spicy smoked sausage or left-over ham to this soup. We cut up some cocktail smoked sausages and added it to the soup, which was a nice and spicy bonus. For the 1 1/2 cups of chopped tomatoes, you'll need 2 medium tomatoes, or just use a can of chopped tomatoes like I did.

I made a couple of small changes to this soup and really enjoyed it. I used the 2 cups of water from steaming the veggies as a replacement for some of the broth, and didn't add salt since my buillon has a lot in it already. I also used a mix of parsnips and carrots to make up the 1 cup carrots called for in the recipe. I've never steamed veggies for a soup before but it's easier then sauteing them as I can keep working as they cook. It was delicious, thanks for sharing!
In a 4 1/2 quart Dutch oven, or a large pot, combine the chicken broth, lentils, and salt. Cover and simmer for 20 minutes.
Meanwhile, steam the onion, carrot, celery and garlic over boiling water for 8 minutes.
Add the steamed vegetables to the lentil mixture.
Add the tomatoes, lemon juice, brown sugar, wine vinegar, and pepper to the pot.
Simmer for 20 minutes.