Lemony Garlic Beans (Microwave)
Redsie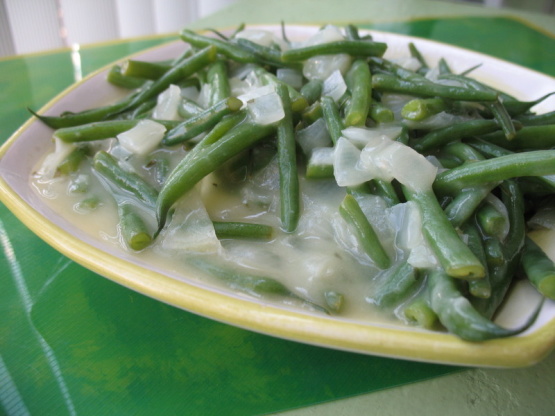 This is a really nice way to serve beans, the beans retain a nice crispness & the sauce has a subtle lemon flavour which goes nicely with the garlic.

I also enjoyed the hint of lemon in this dish. I did not need salt and pepper as there was a lot of flavor from the onion. My cooking method was a little different but with the same out come. First I steamed my gr beans, meanwhile I brought my onion and garlic to a sweat in the butter. Then added the flour and cooked 1 minute next came the lemon. Lastly I added 1 cup of water that I dissolved 1 chicken bullion cube in. When the sauce was nice and thick I added the beans. This is really very good and easy to make and is thumbs up better then that mushroom soup gr bean stuff, healthier too. Made for *Holiday Beverage Tag* game 2007 (Dec)
String & cut beans into 2.5cm lengths. Place into a shallow dish with stock, cover & cook on high for 8 minutes or until beans are tender; drain & reserve stock.
Place butter, onion & garlic in a separet dish, cook on high for 4 mins or until onion is tender.
Stir in flour, then lemon juice and reserved stock, cook on high for 3 mins or until mixture boils & thickens, stirring once.
Combine beans with hot sauce, reheating for approx 2 mins if necessary.