Boomette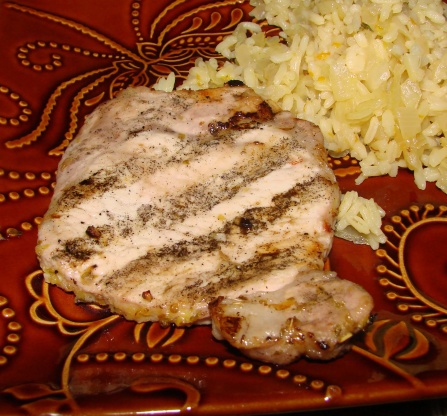 I believe this is originally a Weight Watchers recipe, but I've been using this marinade on pork or chicken for years. It's quick, simple and cheap!

I cooked a batch of these for my Husband and I. Since its just the 2 of us, I made 4. Two for the current dinner and saved 2 for freezing, (not cooked, just marinated). My husband oddly enough didn't like it at first, however I did, so I gave it 5 stars. The second time I cooked it, was thawed from the freezer then pan fried. It did alter the taste probably from freezing in the marinade. Both my Husband and I enjoyed it from frozen to thawed, then cooked. I personally enjoyed the frozen version thawed better. So if you like the convenience of frozen dinners that take 10 mins, I would try this one out.
Combine the first five ingredients (I've found the lemon zest and lemon juice requirements are perfect for one lemon).
Place pork chops in the marinade for at least 30 minutes.
Salt and pepper pork chops to taste, then grill (approx. 5-7 minutes per side).