Pan Grilled Pork Chops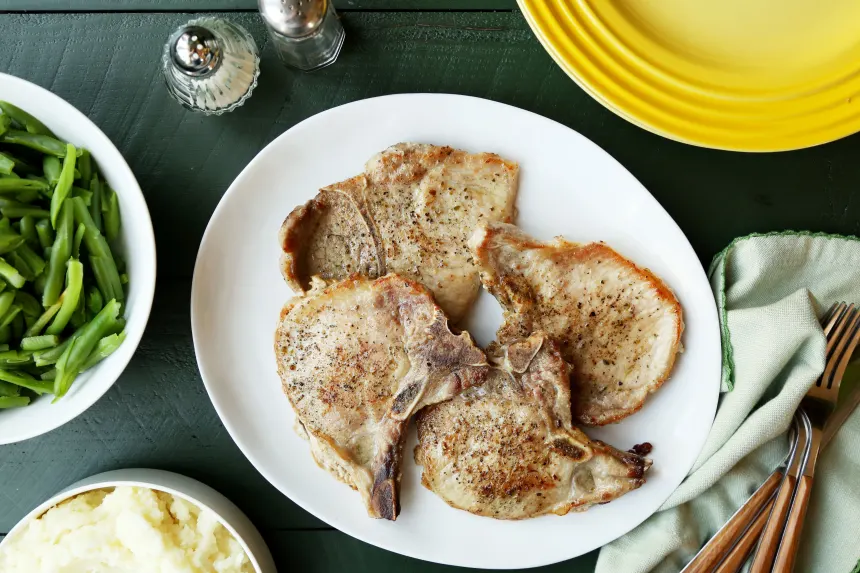 photo by Jonathan Melendez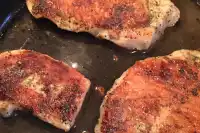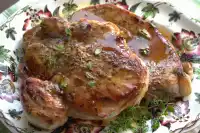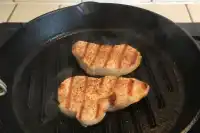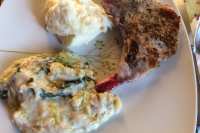 Ready In:

46mins

Ingredients:

5
directions
Sprinkle the salt, thyme and pepper on the pork chops.
Let sit on counter top for 30 minutes.
Place oil in large cast iron skillet (or heavy stainless steel skillet) and heat until medium hot.
Place chops in the pan, placing them so they don't touch each other.
Cook each side slowly (lower heat if necessary) until nice and golden brown on each side.
This will take about 4 minutes per side.
Cover the pan with a tight fitting lid.
Turn off the heat, and let the chops sit for about 8- 10 minutes, depending on thickness of chops.
After removing chops, you can de-glaze the pan with a little water, wine or broth and a touch of butter and serve as a sauce.
Questions & Replies

I'm sorry, I'm not understanding clearly. Where my confusion lays is that the total cooking time stated is three quarters of an hour, yet the directions say to turn off the stove after they are browned and leave them for 8 to 10 minutes depending on the thickness. What am I missing? That does not equal 45 minutes, unless you're counting the thirty minutes prior. It's that where the descrepancy is? Thank you to whomever can answer this. I am so sick of leathery chops and look forward to making these. : )

 
Reviews
Made these twice now. Once as written and then deglazed with 1/4 cup white wine, 1 cup chicken broth, a little butter, and lemon juice...just okay. The second time we used Montreal steak seasoning (as a few others suggested), deglazed with maybe 1/8 cup whte wine, 1/3 of a lemon (squeezed juice), 2 tblsp butter, scraped the bottom of the pan really well and added a small container of sliced mushrooms and maybe 1/2 tsp garlic powder. Cooked for about 5 minutes then mixed in a couple tblsp water with1.5 tsp cornstarch (to thicken) and served over chops. We liked this way much better! Very quick and easy recipe--also very versitile! YUM!!

 

I was in a bind tonight looking for a way to cook pork chops on the stove top (since my oven was occupied) that wouldn't turn out dry like cardboard. That is what usually happens when I cook on top with pork. I found it in this recipe and I'll be using this method again and again.<br/><br/>This couldn't be simpler! The pork chops were perfect and moist! I wish I had some mushrooms on hand because I think that would have been even better with the sauce. <br/><br/>I did use different seasonings, but it was the cooking method itself that lended to a beautiful moist pork chop. Thanks Nan!

 

PanNan..thanks for a delicious supper! After letting the chops rest, I had quite a bit of liquid in the pan which I poured off. Then I took your suggestion and deglazed the pan with a splash of white wine and some beef broth..then added a little onion and fresh mushroom sauteed in butter to make a wonderful sauce. Husband loved this and I will make again many times.

 
Tweaks
My goodness!!! This cooking method makes pork chops tender and DELICIOUS! It alone gets a five-star rating! I did, however, make a couple other adjustments to the recipe. I replaced the salt with seasoned salt. In addition, I rubbed both sides of the pork chops with soy sauce before sprinkling with the seasoning mixture. They were AMAZING! This will be my preferred method of cooking them from now on! EDITED - I've learned that this cooking method works for chicken and beef/steaks as well. Everything turns out moist, tender, juicy, and DELICIOUS! I've even tried it using a little cooking spray instead of the oil and it still works!