Pam-I-Am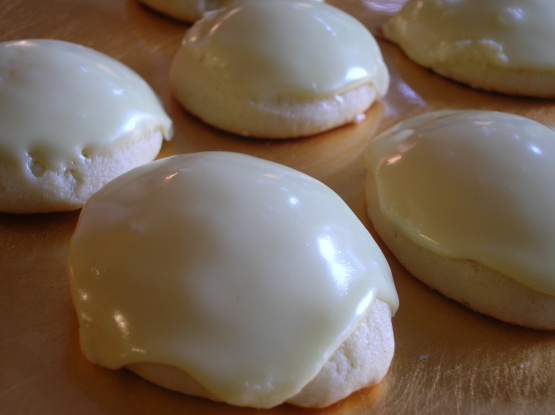 I made this at Christmas last year and they were a big hit, especially with me and my mom. The frosting is a must.

These cookies are delicious! I didn't have any parchment paper, so I baked them on greased cookie sheets, and they still turned out moist and puffy! They were great even without the frosting, although I agree that it's a must, because with it they were spectacular! I think this will become a new family favorite!
Preheat oven to 350°F.
Blend the white sugar and shortening until light.
Beat in the eggs, milk, vanilla and 1 teaspoon lemon extract.
Mix until well blended.
Combine the flour, baking powder and salt.
Add the flour mixture to the shortening mixture.
Mix until combined (the dough will be sticky).
Drop spoonfuls of dough onto parchment paper lined baking sheets.
Bake for 8-10 minutes.
Let cookies cool on cooling rack.
To make icing: combine the confectioner's sugar, water and lemon extract to taste.
Beat until smooth and make icing thick enough to spread on cooled cookies (add more sugar if needed).