Lemon Tea Cookies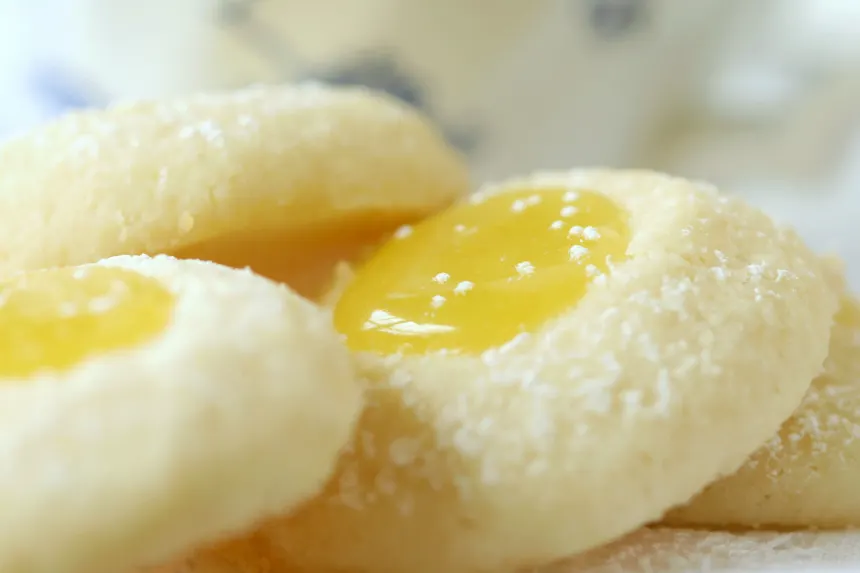 photo by GaylaJ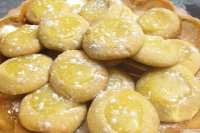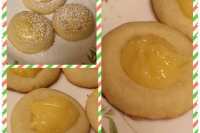 Ready In:

2hrs 50mins

Ingredients:

12
directions
In large bowl, Beat butter, 1/3 C powdered sugar, and vanilla with mixer on medium speed until well blended.
Stir in flour until dough forms.
Cover; refrigerate 30 minutes
Heat oven to 350°F Shape dough into 1" balls.
Place balls 2" apart. Press thumb into center of each ball to make indentation.
Bake 8 to 10 minutes or until golden brown.
Remove to cooling racks and cool completely, about 30 minutes.
In 1 qt saucepan, heat all filling ingredients over low heat about 25 minutes, stirring constantly, until smooth and thickened.
Cool about 15 minutes.
Fill each thumbprint with rounded 1/4 tsp filling. Sprinkle 1 T powdered sugar over cookies.
Reviews
The recipe didn't state what flour to use, so I used Plain flour. It also said to use 2/3 of a cup. This is wrong. I used 2 cups after checking on similar recipes. The dough is crumbly to work with, so the overall effect on the cookies after they are baked, are rough to say the least. I baked the cookies for at least 5 minutes more than stated, as they were not cooked in the middle. I have a fan assisted too, so it wasn't my cooker. The sauce filling tastes quite good, but the cookie itself is dry, tasteless and boring. You have to make these small as stated, as the cookies would be too cloying if they were made bigger. The overall impression of these isn't fantastic. The photo looks great, but mine don't look anywhere near the representation. I have been baking for over 17 years, and I know my way round a recipe. I won't make these again.

 

These were delicious. The cookie was tender and light; the filling sweet and tart. I must have made them too big because I only got about 20 cookies. To avoid scrambling the egg like others did, I tempered the egg by heating up the other ingred. and adding one at a time 3 T of hot mixture to the beaten egg and stirring in, then adding it all back to the pot. No scrambling. Also, some here complained of dry cookies.. don't bake til golden brown like recipe says...only the bottoms of mine were golden, the tops still white-I only baked them for 7 minutes!

 

Oh My !! I haven't had cookies this good in such a long time. I don't usually make many cookies anymore. These were absolutely worth it. I must of made them a bit bigger because I only came out with 29 cookies, and I suppose that is why they took a few extra minutes in the oven. I too made my thumbprint in them again as soon as they came out of the oven. Made for a nicer indent for that delicious lemon filling. It was the perfect amount of lemony taste. This is definitely a make again recipe. Thanks so much for the recipe post Lavender Lynn. Made for the Comfort Cafe '09<br/><br/>UPDATE: I have made these so many more times since '09 and just wanted to mention since I didn't go back to update before that to be sure to use real lemon zest off of a fresh lemon or the color will not be a bright yellow. Also I used a Melon ball scoop to get the right size and made 35 each time. But it definitely takes a good extra 5 minutes in the oven. I have to keep mine in for 15 minutes. So you just may want to watch this when you make them. I just did another batch this week to bring to work and they all raved about how delicious they were and they all want the recipe. Just want to say thanks again for sharing.

 

I have to question the 25 minutes it says to stir the filling - really? Traditional lemon curd does not take that long and as much as I love to bake that is too labor intensive for a cookie with mixed reviews. Also, the calories says 1100.2 - it would be nice to have that broken down to actual "per cookie" values; I divided the total recipes calorie amount given by total yield and it came out to 22.9 cal per cookie - that would be nice, but highly unlikely.

 
Tweaks
What delicious little gems! They not only look great and would be a wonderful addition to any table, but they taste amazing! I love the soft buttery cookie, and didn't find them to be too crumbly at all. They were a little crumbly, but in a good way! I was amazed at how easy the dough for the cookies was! And without there being any egg in it, I could have eaten the dough as it was, but I controled myself lol. The filling is outstanding. Reminds me of some lemon bars I love. I didn't need 25 minutes to thicken my filling, and I really only let it cool for a couple minutes before filling the cookies since I was worried if I let it cool too long it would harden and be tricky to handle. I also had to reform the thumb prints on the cookies when they came out, but I was ready after reading the other reviews. We also left off the powder sugar on top since it wasn't necessary. I did get exactly 3dz. cookies out of this, though keep in mind they are small cookies. I used butter instead of margarine as well. I agree these deserve more than 5 stars! A little time consuming, but so worth the effort!

 

this was realllllly good! I'm not much of a measurer when it comes to cooking, so I the fact that they worked beautifully even when not measuring correctly makes them more impressive. I used limes instead of lemons so I didn't use quite as much juice and peel. The only thing was I added more cornstarch because the filling wasn't thick enough. I loved these and would make them again