Found this recipe while looking for a different one, & thought the lemon & chocolate combo sounded interesting! It's on my to-make list! If you plan on having this bark at room temperature for long periods of time, you should temper the chocolate to make it temperature-stable.
Directions
Line a 13"x9" rimmed baking sheet with a smooth sheet of heavy duty aluminum foil.
To candy the lemon zest, in medium saucepan place 1 cup of water & 1 cup of granulated sugar, & bring to boil.
Add zest & cook, stirring occasionally, 20 minutes, or until water is yellowish & zest is translucent.
Drain water & spread candied zest on wax paper to dry several minutes, then coarsely chop zest.
In microwave OR in a double boiler, melt bittersweet chocolate, then pour on prepared baking sheet. Use spatula to spread chocolate in a thin layer, then place in refrigerator to set.
In microwave OR in a double boiler, melt white chocolate. Stir in lemon extract or oil, then, if desired, add several drops of yellow candy food coloring.
Pour white chocolate on top of dark chocolate & smooth into a thin layer.
While top layer is still wet, sprinkle chopped lemon zest on top & gently press into the chocolate.
Place tray in refrigerator to set.
When set, break into irregular pieces & serve.
Reviews
Most Helpful
This is really good. The flavors of lemon/chocolate go very well together. We made a half batch and cheated a bit by using store-bought candied lemon peel and it turned out fine. :)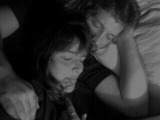 These are delicious and sweet! The candied lemons give it texture and was chewy (often gets stuck on my tooth..oops lol) while the brown and white chocolate gives the bark an appealing contrast. I used a peeler, scissors and non stick wok when I made the lemon zest candies. Scissors to cut the peel into strips, non stick wok so that it doesn't harden in the pan. Advantage of the NS wok is that I don't have to mix it constantly and just wait a bit for the water to evaporate a bit. Mix every now and then making sure they don't stick to each other. Then I spooned out the peels making sure they're an inch apart from each other. That way, they don't clump together. Then cut it again into small bits. Clumping happens at the last stage when they're simply poured together as it settles quickly out from the fire so probably for it not to be too hard, there should be more water left in the pan (abt 1/4) before spooning it out. Anyway, these are great to have homemade chocolate around! That means less for more! Thanks, Sydney !

I scaled this back to 16 serves and made in a 20cm x 20cm (8" x 8") cake tin. Used 185 gm of each chocolate (a 1/2 packet). I basically did this twice (as a 16 serve) first as per recipe and the second one I subbed orange extract and used orange zest and candied that (burning the first batch). Don't think I did it quite right and may have not had my zest thin enough, only used half recipe for zest but had more than enough to cover 8 x 8. Took to the DS's music recreation group (for intellectually challenged adults) and they thoroughly enjoyed both versions. One also suggested instead of the peel how about scattering chopped nuts (you choice of) over the top - maybe putting some rum essence in the white chocolate (optional) - and calling it nut chocolate bark. Thank you for a great recipe. Made for 123 Hit Wonders 2008.