Lemon and Olive Oil Dressing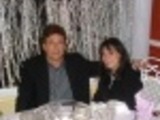 A classic Mediterranean salad dressing that's simple and so good – makes a great marinade for grilled chicken, too.
Directions
With a mortar & pestle, make a paste of the salt and minced garlic.
Mix together lemon juice and olive oil. Add the salt and garlic mixture to the lemon juice and olive oil in a tightly closed container.
Shake well. Sprinkle optional grated Parmesan or lemon zest on top of salad before tossing.
Reviews
Most Helpful
The one-to-one ratio of EVOO to lemon juice makes it way too tart. Use the tried-and-true 3 parts EVOO to one part vinegar (in this case, lemon juice).
This was so salty it was inedible as salad dressing. I didn't use the cheese or zest but I don't think that would have made a difference. After tripling the oil and lemon juice it was passable. Is 1T salt a typo? I'm shocked anyone gives this 5 stars as written. Maybe it would be good as a marinade, but not for dressing.
This is a terrific, fresh