From Better Homes and Gardens Magazine... May 2008 issue
Directions
In medium mixing bowl, beat cream cheese, lemon juice, Italian seasoning, and garlic with electric mixer on medium speed until smooth and combined.
Spread cream cheese mixture into a deep 9-inch pie plate or shallow serving dish.
Evenly spread hummus on cream cheese layer.
Top with cucumber, tomato, olives, feta cheese, and green onions.
Cover and refrigerate 2 to 24 hours.
Serve with pita chips.
Reviews
Most Helpful
I brought this to a party to share. It was a beautiful dip, very colorful. I used chopped black olives instead of the kalamata as the kalamata olives were $8 a jar! I didn't think it affected the taste much. I would suggest to others to reduce the garlic from 3 cloves to 1 and then taste and add more if you like it strong. Just thought 3 garlic cloves were overpowering in the cream cheese. A really delicious dip that I will be making again!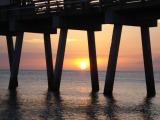 I love this dip. It is so fresh tasting and a nice change from the Mexican layered dips. I used the Sabra brand hummus because it's the creamiest I could find. I agree with the previous review, it is a really festive-looking holiday dip. Thanks for posting.