gailanng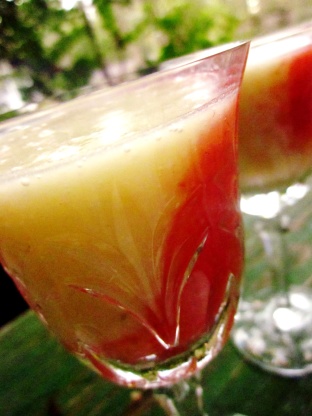 Just one of many variations of Lava Flow. A popular tropical drink of pineapple juice, rum, and tropical fruits. Adapted from a recipe posted on the About.com. Not Recommended for those under the legal drinking age!!!
Blend the 2 rums and the strawberries in a blender to form a smooth paste.
Pour this mixture into a tall (Collins or Hurricane) glass. Rinse the blender.
Blend the banana, the coconut cream, and the pineapple juice in blender with crushed ice until smooth.
Pour this mixture into the glass with the rums very slowly.
Garnish with a pineapple wedge.