Lammstek – Swedish Roast Leg of Lamb
Peter J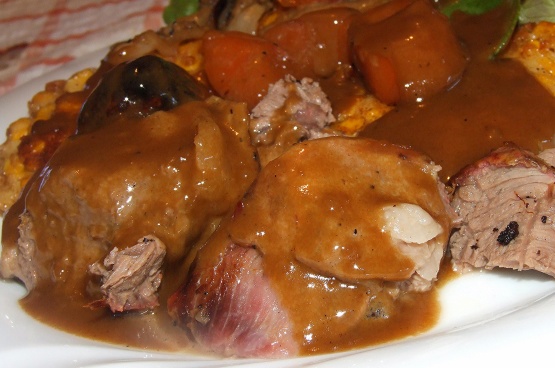 Ok, Cookgirl – You asked for it. ... Lamb in Iceland is unlike any other I've ever tasted. While it's the "staple meat" of our country, it has such a wonderful flavor & texture that's impossible to describe adequately. Siggi & I usually grill a leg of lamb or oven roast it after trimming all excess fat & seasoning w/garlic, rosemary and seasoning salt. This unique recipe takes a different approach & is from my "Classic Scandinavian Cooking" cookbook by Nika Hazelton. The name says it all & the intro is brief. "The coffee, provided it is not overly strong, gives an excellent color to the meat & a subtle taste to the gravy."

i've made this twice now. it's really yummy! you don't taste the individual elements of the gravy, they meld together quite well. it's not overtly sweet, which you might expect from the sugar and the carrots. i used an immersion blender to make the gravy. it's also nice to have a thick rich gravy with no flour required!
Set oven to 450°F.
Trim lamb of all excess fat. Rub salt and pepper into meat. Place meat on rack in roasting pan and roast 30 minutes. Pour off fat or remove with a baster bulb.
Reduce oven temp to 350°F; place the onions and carrots in the pan.
Combine bouillon, coffee, cream and sugar. Pour mixture over the meat.
Cont roasting for 1 to 1 ½ hrs, depending on the degree of doneness desired, & baste very frequently. Transfer lamb to warmed serving platter and keep hot.
Deglaze pan with a small amt of water and strain pan drippings into a med saucepan. Press any strained drippings and the vegetables through a sieve (or purée in a blender) and add to the saucepan. Combine the pan contents well and heat to a desired serving temperature.
Serve lamb with gravy on the side and accompanied by broiled tomatoes, browned potatoes and green vegetable of choice.