Lamb and Pine Nut Stir-Fry
mianbao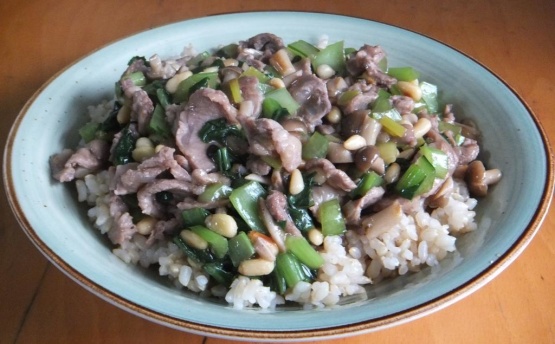 I tried this recipe cooked over direct heat, since I don't have a microwave oven. I wanted a recipe for sliced lamb. There are surprisingly few on this site. I decided to make 3 servings worth, because 1 serving seemed impractical. The resulting dish provided me with a reasonably good dinner, I'd say 4 stars. I do think the recipe could use some adjusting. Maybe a little soy sauce, sugar, and Chinese wine would add a stronger flavor. Or maybe some chilies. I don't expect everything I eat to have an assertive flavor, but do think this recipe could use a little help. Also, and I do like pine nuts, I don't think they really "belong" here. JMO. I am not leaving stars because I changed the cooking method. These comments are for other cooks' reference. I did post a picture of my version.
Partially freeze lamb.
Thinly slice into bite-size strips.
In a 1-cup measure stir together 3 T water, oyster sauce, cornstarch, grated gingerroot and chicken bouillon granules.
Micro-cook, uncovered, on 100% power for 1 1/2 minutes or till mixture is thickened and bubbly, stirring every 30 seconds.
Set aside.
In a small nonmetal bowl combine bok choy, sliced mushrooms, and 1 T water.
Cover with vented clear plastic wrap.
Micro-cook, covered, on 100% power for 1 1/2 minutes or till bok choy is just crisp-tender.
Drain.
Cover and set aside.
Preheat a 6 1/2-inch microwave browning dish on 100% power for 3 minutes.
Add cooking oil to browning dish.
Swirl to coat dish.
Add lamb strips.
Micro-cook covered, on 100% power for 1 to 2 minutes or till lamb is done.
Drain off fat.
Stir in oyster sauce mixture.
Micro-cook, uncovered, on 100% power about 30 seconds or till mixture is heated through.
Toss lamb mixture with toasted pine nuts and bok choy mixture.
Serve over hot cooked rice, if desired.