Lamb and Mint Patties / Burgers
Rita1652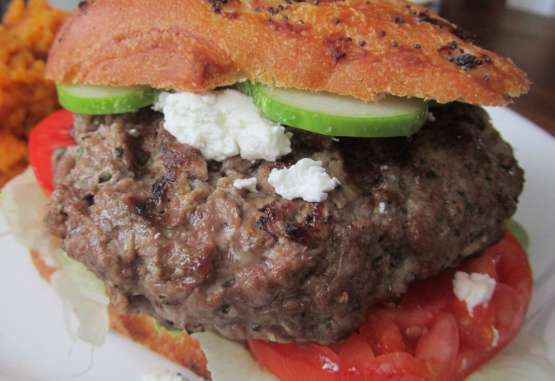 Quick and easy for a weeknight dinner. Serve on burger rolls or with veges or salad on the side. These patties are gluten-free

ACE! So good! I didn`t saute my onions, garlic or ginger. I added them raw to my food processor till they where very finely minced. I did buy a cut from the shoulder that i cut into cubes, froze then pulsed in my food processor with the onion mixture. Grilled about 3-4 minute per side. I placed the burger on a onion bun (no bun for gluten free) with lettuce and tomato. Topped the burger with crumbled goat cheese and thin sliced cucumbers. No need for ketchup. Thanks. Made for my team the lively lemon lovelies. ZWT #8 Australia challenge. Cheers Jubes. Oh I did serve with Recipe # 484221
Heat the olive oil over low heat.
Add the onion and cook for 5 minutes until soft.
Add the garlic, ginger some salt and pepper. No need to cook these off,but you can cook for a further one minute if wished.
Remove from the heat and allow to cool.
Add the lamb mince to a large bowl along with the cooled onions and the mint. Season again and mix until thoroughly combined.
Roll large balls of the mixtureand flatten to make burger/patties.
Sit the patties on a plate and chill in the fridge until firm, if time permits.
Shallow fry the burger patties in a little vegetable oil. Fry 6-7 minutes each side, or until cooked through. You can also cook on a grill/griddle pan or barbeque.
Serve hot on a roll or with veges or salad on the side.