Coritoto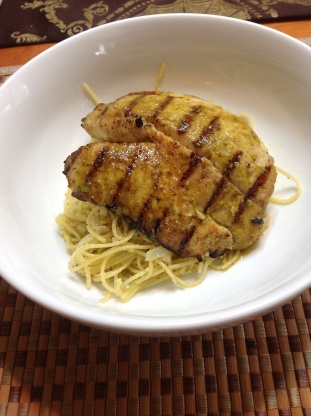 This was given to me when I requested a recipe for Wahoo by Lainie. It turned out absolutely fantastic. I used the leftover sauce on angel hair pasta. It was like pesto without the nuts. My Daughter called it the best pasta in the world!

ABSOLUTELY DELICIOUS! Yes, it is thick, which is so great! It sticks to the fish and doesn't drip off. It was so easy to make! I didn't melt the butter in the microwave because I didn't know if it should be melted down to liquid or just soft, so I just left out some whipped butter to soften and it was perfect! And it worked well with a food processor because I didn't use my blender. My only suggestion is if you want to use the remainder of the sauce at the end of the recipe put some aside so that the raw fish doesn't touch it. I forgot to do that so I just brushed the remainder on the fish as it cooked. It was so yummy! Loved it! Definitely recommend this one.
Spray grill with nonstick spray or brush with vegie oil to prevent sticking. Preheat on high for about 10 minutes.
Mix first six ingredients in a blender. Purée into a smooth sauce.
When ready to cook, brush both sides of fillets with sauce. Place fillets on grill and cook, turning once or twice. Brush more sauce as needed.
Fish is done when it flakes easily (about 5 minutes). Serve with lemon wedges.