Lady and Son's Onion-Cheese Bread - Paula Deen
Bobtail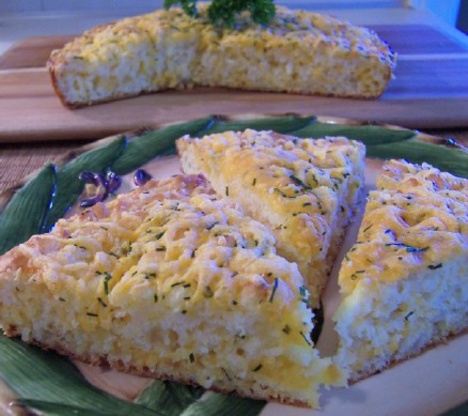 Another wonderful recipe courtesy Paula Deen Television Food Network, 2003. This is very good and oh so cheesy. Edited 06/01/07 I have made it again and the one thing I have to add is to caramelize the onions before you use them and if you choose, use a heart-healthy baking mix.

This was so easy to throw together. It was beautiful coming out of the oven and tasted great. I made it in a 9 inch round pan because it's all I have and it was fine. And I used the heart healthy bisquick mix. A big hit with the whole family. Thank's for sharing!!
Preheat oven to 400°F.
Heat the oil in the skillet over medium heat.
Add the onions and cook until tender, about 7 minutes.
In a large bowl, add the milk and egg to biscuit mix, stirring just until the mix is moistened.
Fold in the onions and 1/2 cup of cheese.
Spoon the dough into a buttered 8-inch round cake pan.
Mix the onion salt or powder - into the melted butter and drizzle the mixture over the dough.
Sprinkle the bread with chives or parsley and bake for 15 minutes.
Top the bread with remaining 1/2 cup of cheese and bake until the bread is cooked through and the cheese top golden, about 5 minutes longer.
Cut the bread into wedges and serve warm with butter.