Kittencal's Marinated Oil and Vinegar Coleslaw
rho2gail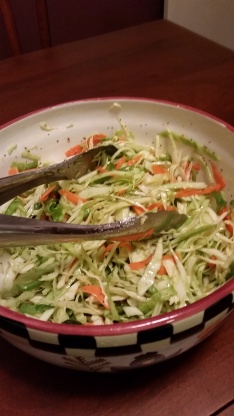 I make this quite often for BBQ parties and everyone loves it! plan ahead, this salad must be prepared a day ahead and left in the fridge overnight to blend the flavors, it will take on a completely different flavor --- I have even added in lightly blanched broccoli and/or cauliflower florets to the veggies, feel free to add in whatever you want to --- remember to add in the white sugar to suit taste if you prefer a sweeter coleslaw adjust the sugar amount, I have added up to about 1 cup, taste the dressing before adding to the salad if you think it needs more sugar then add it into the dressing before mixing into the slaw just make certain to whisk very well so that the sugar is mixed in completely.

Very good. I made it with 1 prepackaged coleslaw mix and halved the dressing. Everyone went back for seconds. This is a keeper! Thanks.
In a large bowl, mix the vegetables together.
Mix first 6 dressing ingredients together in a small saucepan; bring to a boil.
Remove from heat then immediately add in the oil and white sugar; mix to combine until the sugar is completely dissolved, then pour the hot mixture over the veggies.
Allow to sit out at room temperature for 1 hour stirring occasionally with a spoon.
Cover and refrigerate for 24 hours stirring occasionally, I just keep a spoon in the bowl and just mix every time I open the fridge.
Season with freshly ground black pepper (if desired) before serving.