Nimz1466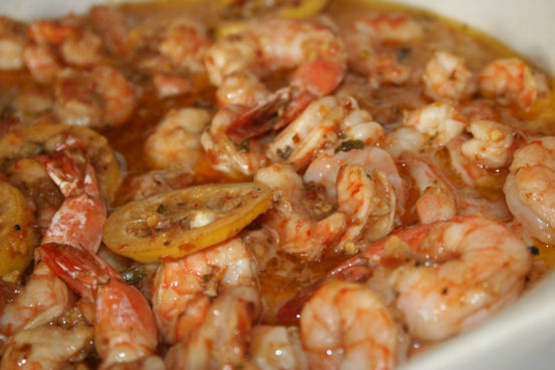 This is a marinated shrimp recipe that is served warm with crusty french bread to soak up all the good sauce. Quick, easy and oh so good.

Simply not edible with the amount of spice indicated. Half the chili sauce, crushed red pepper and tobasco to cut down on the heat.
In a large saucepan over medium heat, simmer butter, olive oil, chili sauce, Worcestershire sauce, lemon juice, lemon, garlic, parsley, red pepper flakes, oregano and Tabasco until well blended.
Remove from heat and let cool.
Place sauce in a zip-lock bag; add shrimp.
Refrigerate at least 8 hours or overnight.
Preheat oven to 350°F.
Place shrimp and sauce in a large shallow baking pan.
Bake 10 to 15 minutes or until shrimp are opaque in center.
Remove from oven.
Serve with a crusty French bread for dipping in sauce.