Kielbasa Potatoes, Onions & Carrots
Rita1652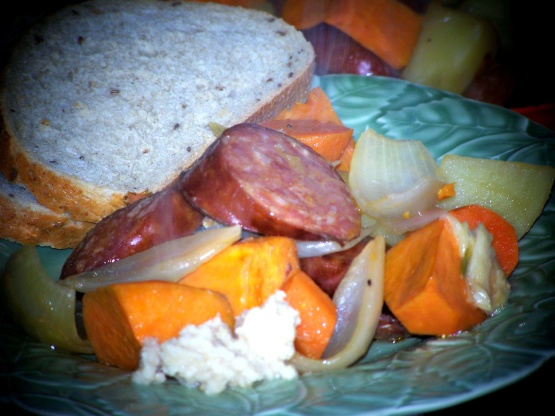 This hearty one dish meal consists of kielbasa, potatoes, onions & carrots that is baked in beer till tender soft. Flavored with garlic, Worcestershire sauce, horseradish, peppercorns and bay leaf. I used a mixture of sweet potatoes and white potatoes use what you prefer.

I add a can of chicken broth instead of the beer. I also add a can of tomato sauce, plenty of garlic and 2 inch chunks of red and green bell peppers. Usually use about two or three peppers and two links of kielbasa, about four pounds of Yukon Gold potatoes and two large yellow onions, I chunk the carrots in large pieces as well. The broth and tomato sauce make an amazing broth to soak up with French bread. My family loves this dish, we call it "sausage pot."
Preheat oven to 350°F.
In a large hot Dutch oven fry kielbasa just to release some fat.
Toss in potatoes, carrots, onions, and garlic.
Mix together the beer, horseradish, peppercorns, bay leaf, and Worcestershire sauce. Pour over the kielbasa mixture.
Cover and bake for 60 minutes then toss.
Raise oven temperature to 425°F; sprinkle with a pinch of coarse salt and bake for 20-30 more minutes till top is crisp and inside is fork tender.
Serve with fresh rye bread, horseradish and or mustard.