Kid Size Garlic Bread Loaves
lazyme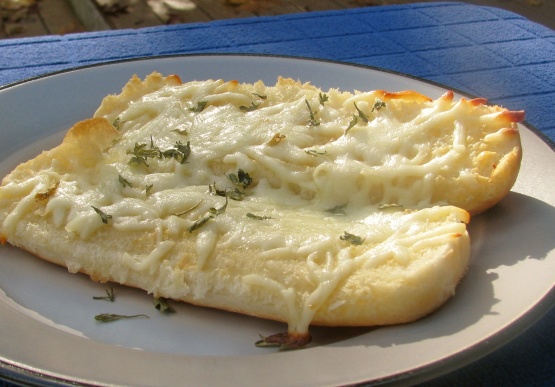 Was at a friends house and she was making lasagna and didn't have enough garlic bread for everyone...so she made some "just for the kids". I was so shocked, who would have thought? Now this is what I fix if I'm in a hurry and don't have time for "real" garlic bread. They don't complain and they can help individualize their own if they want to.

Worked like a charm. I used these to make meatball sandwiches. So quick and simple. Thanks for posting.
Split hot dog buns open and lay on cookie sheet (crust side to the cookie sheet).
Spread butter on open side of each hot dog bun.
Sprinkle with garlic.
Place in 350 degree oven and bake until top side of bun is very lightly browned or until butter (and cheese-if added) is melted. Check often.
Good served with spaghetti or lasagna and salad.
May add mushrooms, black olives, pepperoni, mozzerella cheese, etc-- before placing in oven-- if desired. ~This is like a meal in itself.~.