Kelly's Kitchen Sink Goulash!
PanNan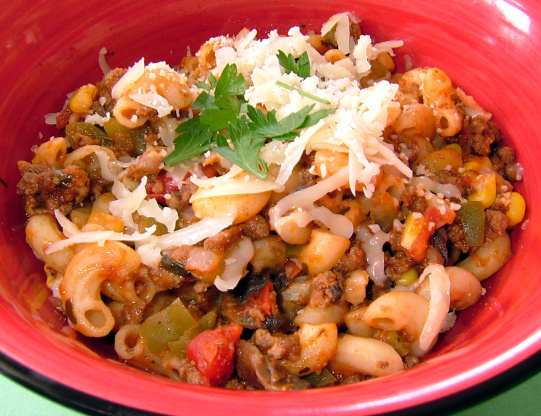 Been making this stuff for more than 20 years,...it's got everything in there!! I used Ragu this time (it was on sale), though, instead of making it with tomato sauce and tomato paste....and it came out great! Total comfort food and freezes well! We love it! Enjoy! :)

We would have liked this one better without the corn. Thanks for posting!
In chicken fryer, (large DEEP skillet), saute ground beef, Italian seasoning, 1 teaspoons oregano, 1/2 teaspoons thyme, 1/2 teaspoons garlic powder, 1/4 teaspoons seasoning salt, 1/4 teaspoons pepper, bell pepper, onion and mushrooms til meat is no longer pink.
Drain grease.
Add spaghetti sauce, 1/2 teaspoons oregano, 1/2 teaspoons garlic powder, 1/8 teaspoons seasoning salt, and dark brown sugar. *Can sub light or regular sugar.
Bring to a simmer. Simmer at least 5 minutes on low.
Meanwhile, cook macaroni til tender, drain, fold into sauce.
Fold in corn.
Serve topped with shredded mozzarella and parmesan cheeses.