Kathie Lee Gifford's Pecan Tarts
*Pixie*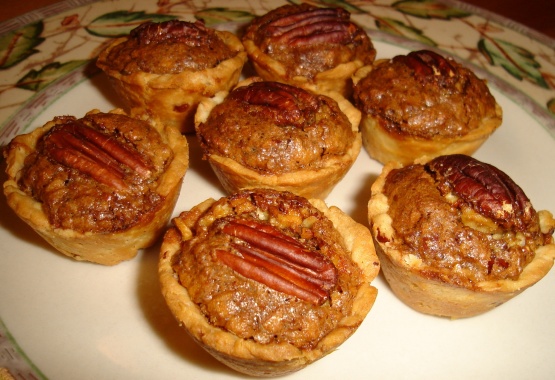 if you want a surefire hit... these take a little more time to make - in mini muffin tins...but you canNOT stop eating them and they disappear at any party in a flash! This Is A Labor of Love to make individual mini tarts [make it much faster by making a pan's worth and cutting into squares like brownies]- but everyone asks for the recipe NOW... a pretty easy way to spread more joy in the world... EVERYONE loves them - even if they don't like nuts... OR pecan pie!
I was in a bit of a hurry, so I didn't do the exact refrigeration processes as stated in the recipe. After they were out of the oven, I just refrigerated them, while they were still in the pan for about 20 min. They popped right out of the pan. So, I really don't think you need to do the overnight refrigeration step. I also had to add a couple teaspoons of flour to the dough because it was a bit too sticky to handle. Otherwise, the dough was flaky and the filling very good! Good recipe :) ~ The Mad Slovak ~
FOR THE CRUST:.
Cream together the softened butter and cream cheese.
Add the flour and beat well.
Mold into mini muffin tins, muffin cups, or any little container [these are BEST when they are bite-sized].
Refrigerate in pans overnight.
FOR THE FILLING:.
Beat egg well and add oil, vanilla, brown sugar, salt and pecans.
To assemble: Put a small ball of crust mixture into each hole of a mini muffin tin and, with a wet spoon, press into the bottom and sides. Repeat.
Then fill each shell to 2/3 full with pecan mixture.
Bake at 350º for 25 minutes.
Let cool.
Note: when I feel too lazy to make little tarts, I have made this as a pie - pressing the crust into a 9 X 5 loaf pan or a 9 inch square pan -- and poured the filling in -- and it satisfies the craving.