elpell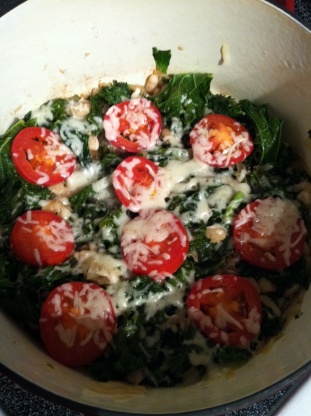 I hated kale until a friend gave me a bunch from her garden and this recipe. I added a few ingredients. At dinner my husband ate two servings and asked me to make it again. Success!
This is great! I made the mistake of leaving some of the kale stems. Don't do that! It makes it tough and fibrous. OTherwise this was a 5 star for health and delicious flavor!!! Thanks so much Hinkle!!
If you can get fresh kale from a garden, wash it, shake off excess water, and store it in a partially airtight container in the frig for 3-4 days. As it "ages," it sweetens.
Heat the olive oil slowly in a large frying pan.
While the oil is heating, chop the kale in large strips. Set aside.
Saute onion and garlic over medium-low heat until they begin to turn color. Do not burn.
Throughout the rest of this prepartion do not overheat the oil. Medium should be the right temperature.
Stir in the brown sugar, oregano, and thyme. Stir gently for another minute or two until the sugar has disappeared.
If you need to add a bit more olive oil, do so at this point. You need a thin layer of hot oil covering the bottom of the pan.
Stir the chopped kale into the hot oil mix. Kale may look to be too much to fit in the pan, but be patient; as you stir it in, it begins to wilt down to a manageable size. Stir the kale gently for a few minutes, just long enough to cook it down a bit. Do not let it become soft.
Stir in the drained, rinsed beans, the balsamic vinegar, and the salt.
Lay the tomato slices on top.
Lay the thinly sliced asiago cheese on top of the tomatoes.
Turn off heat or turn down very low, cover and let steam for 5 minutes. Serve hot.