Jim's Award-Winning Chili
Jim N.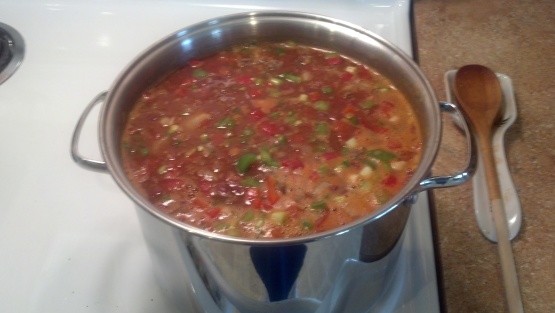 I started this recipe a lot of years ago, and have changed and improved it (I hope) a lot of times. My mother recently made a batch with this recipe and entered it in a contest where it won (in Yuma, and I think they KNOW their chili down there!) What makes this great, I believe, is the use of almost all fresh ingredients, keeping canned items to a minimum. Using FRESH vegetables, I believe, is the real key, especially if they are certified organic! Depending on the specific jalapenos, it will be mild to medium spicy.
Brown the beef with the garlic.
While the beef is browning, in an 8-quart pot add the beans, water, sugar, salt, black pepper, chili powder, and cumin, and set on stove at medium temp, stirring every few minutes to blend.
Dice the tomatoes, green and red peppers, green onions, sweet onion, and add to the 8-quart pot, again, stirring frequently.
Cut the jalapeno peppers into slices, add to about a cup of water and purée it, add to 8-quart pot, and continue to stir frequently.
When the beef is coooked thoroughly and browned completely, add to the 8-quart pot.
Bring to just short of a boil, then simmer for at LEAST 2 hours. Makes 8 Quarts.