The Best Chili You Will Ever Taste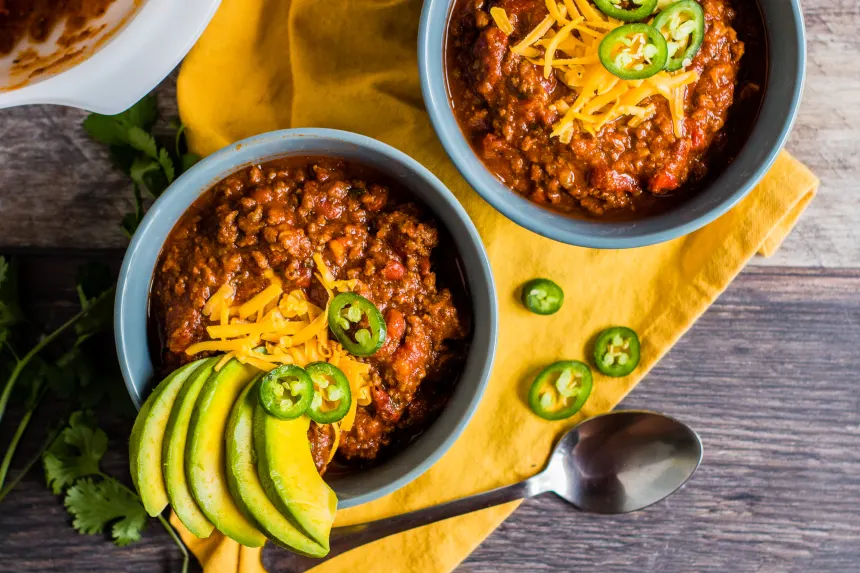 photo by limeandspoontt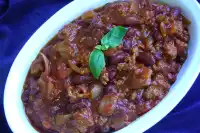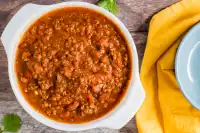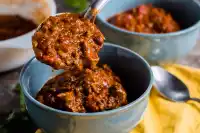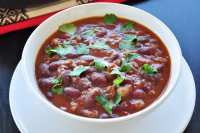 Ready In:

2hrs 30mins

Ingredients:

20
directions
Heat oil.
Cook onions, garlic and meat until brown.
Add tomatoes, beer, coffee, tomato paste and beef broth.
Add spices Stir in 2 cans of kidney beans and peppers.
Reduce heat and simmer for 1 1/2 hours.
Add 2 remaining cans of kidney beans and simmer for another 30 minutes.
Questions & Replies

This is listed as an award winning chili. As I am a former judge at chili cookoffs, could you tell me what award this has won? Maybe it's a Texas thing, but this does not meet a lot of criteria to enter our competitions. It sounds deliciously different and I'm going to try it (sans beans and sugar). Just curious about the award thing.

 
Reviews
This why i hate some3times trying to find recipes on the internet. I actually found this recipe on allrecipes and i it sounded good but after trying it i beg to differ. Like some other reviews said its way to sweet. Ive used 1-2 tbsp of brown sugar before which is just fine but 1/2 cup is WAY to much. I do admit it does get a little better the next day but its still not that great.

 

I have made this recipe several times with a couple of slight modifications, and everyone who has tasted it has loved it - many people have asked me for my version of the recipe. For starters, I use chuck instead of sirloin for superior beefy flavor. I also do not use any of the sugar. I also add 1 tsp of hickory flavored liquid smoke. Here's the whole ingredients list:<br/><br/>2 onions, chopped<br/><br/>10 or more cloves garlic, minced<br/><br/>2-3 lbs ground beef<br/><br/>2-3 lbs chuck steak, cut into small cubes, most of the fat removed.<br/><br/>2 (14 1/2 ounce) cans fire-roasted diced tomatoes<br/><br/>1 cup strong coffee or a couple of teaspoons of instant espresso<br/><br/>2 (12 ounce) cans tomato paste<br/><br/>1 can beef broth (or 1 TBsp of "better than broth" beef base and 12 oz of water)<br/><br/>3 1/2 tablespoons Heinz chili sauce (about 1/2 of a regular-sized bottle)<br/><br/>1 tablespoon ground cumin<br/><br/>2 tablespoons cocoa powder<br/><br/>1 tablespoon dried oregano leaves<br/><br/>1 tablespoon ground cayenne<br/><br/>1 tablespoon ground coriander<br/><br/>1 tablespoon onion powder<br/><br/>1 - 2 tablespoons crushed red pepper<br/><br/>1 tablespoon salt (or to taste)<br/><br/>1 teaspoon hickory flavor liquid smoke<br/><br/>6 - 8 (15 ounce) can kidney beans, black beans, pinto beans etc - make it as beany as you want - don't drain them unless the chili is already too runny

 
Tweaks
I brown the meat, onions, and garlic on the stove top and then just stick it in the crock pot all day (8-10 hrs) all day on low. When doing that, I'll add all of the beans at the beginning, but I do go with 2 cans kidney and 2 cans pinto. I use home made (hot) chili sauce. I'll typically throw in a variety of sauces made from tabasco, cayenne, and habanero from the garden. For a "smoky" flavor, we'll char the 4 larger fresh chili peppers on the grill before chopping.