Jazzed up Creole Shrimp Salad
Rita1652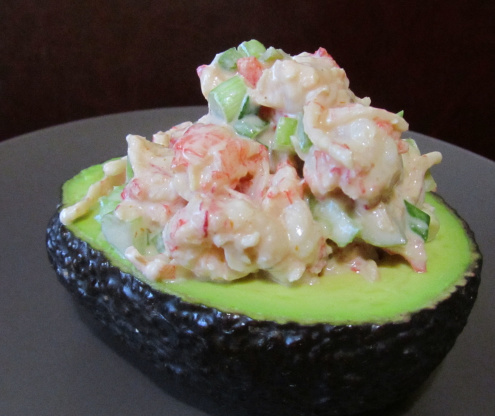 Fat Tuesday is today the first day of Dining on a Dollar And what better way then to enjoy is with a no cook meal made with my twist on a Remoulade sauce. Lent starting the day after making this is a good dish for abstinence from meat. Then when the days get hot its a cooling, refreshing eats! Enjoy the salad over a beg of greens, stuffed in an avocado or on Muffuletta or Baguette. If you double the dressing add a pound of cook pasta for a delish pasta salad. Try crab meat, or canned salmon or crawfish.

I used with shrimp and flaked crab. I fine chopped everything as directed because they were listed as part of the dressing. The next time I make this I leave the veggies slightly chunky and add with the seafood. I used dill relish & served on leaf lettuce with slices of avocado. The sauce is EXCELLENT and could be used on many things! I think it would even be good as a dipping sauce for crab cakes, salmon patties or on a pasta salad. It's well balanced, was a creative use of contest ingredients so GREAT JOB!
Place all the Remoulade Sauce ingredients in a bowl and mix to combine well. Taste and adjust seasoning to your likings.
Add the shrimp and stir to coat.
Chill for 2 hour for flavors to meld.
Plate over greens, stuff into half an avocado,(my Favorite) or into a Baguette.
Enjoy!
FYI: If you don`t enjoy a chunky salad like sauce by all means blend it for a smooth dressing.