lazyme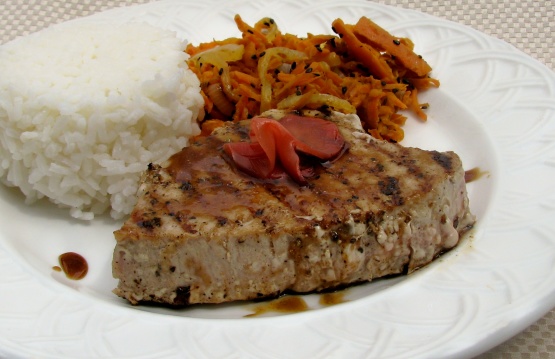 This Japanese-inspired tuna should be grilled very rare for the best flavour. The glaze keeps for two weeks refrigerated, but if it becomes too thick, thin down with a little water before using. Serve with rice and a cucumber salad. To crack peppercorns, place in a plastic bag and bash with rolling pin or back of a pot. Prep time includes marinating time. From Food and Drink.
I found a really good price on Tuna steaks, $5.99 a pound! So I was looking for a new recipe to try. This was the most flavorful recipe I have found. The wasibi just added the right amount of kick. Thanks Leslie for sharing, I went out and bought more Tuna while it was on special so I could make it again!
Combine oils, ginger and pepper. Brush on steaks.
Sprinkle with kosher salt.
Marinate for 30 minutes.
Combine sugar, water, rice vinegar, soy sauce and ginger.
Stir to dissolve.
Bring to boil on high heat and reduce until syrupy, about 15 minutes.
Make a apste of the wasabi powder and the water.
Whisk in wasabi paste.
The glaze should be used at room temperature.
Grill tuna 2 minutes per side with lid closed for very rare - 3 to 4 minutes per side for medium-rare.
Use either a squeeze bottle or a fork to streak glaze over fish.