fawn512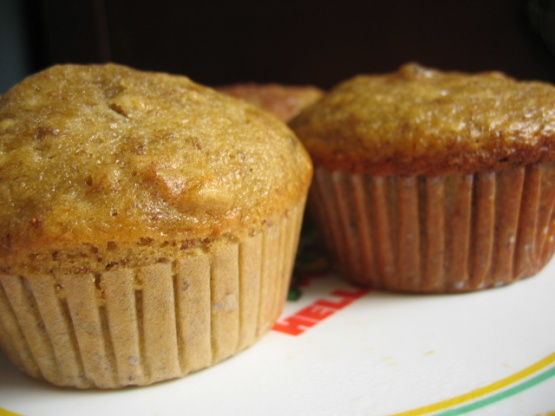 From James Beard Bread Book. One of the must have books. It's simply the best. I make muffins instead of bread, it's faster to make. The bread's not gummy and easier for my mum-in-law to eat. I grate up a little orange peel sometimes to be different.
I whipped this up today, and baked them in mini loaf tins. The addition of brown sugar and honey gave it such a wonderful taste. The only thing I changed was I added in 1 tsp baking powder instead of the 1/2 tsp stated in the recipe, and added some toasted walnuts into the batter... I got 3 small loaves, and they turned out just wonderful! I will be giving two away and keeping one for myself. Thank you Dienia, for a great recipe!...Kittencal:)
Preheat oven to 350°F.
Cream the butter and sugar together.
Add honey, bananas, and eggs; mix well.
Sift dry ingredients together and fold into banana mixture.
Fold in nuts and optional orange zest.
Grease baking pan or muffin tins.
Bake at 350° for 1 hour. If you bake this in muffin tins, it's about 20 minutes. It is done when toothpick comes out clean.