Jacket Potatoes Filled With Garlic and Herbs
Debbwl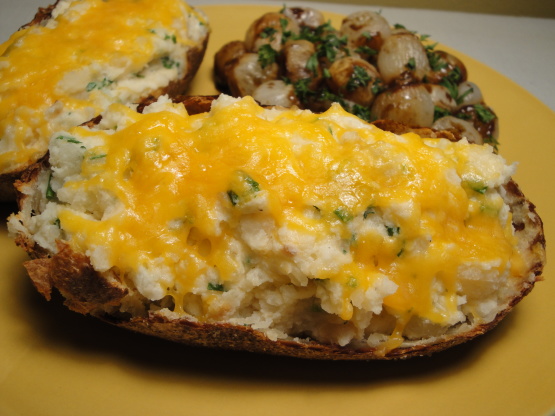 The nicest thing about jacket potatoes is its crisp, crunchy skins and fluffy, floury insides with some lovely filling melted into them! As an accompaniment, one half of the potato will be sufficient per person, or 1 potato per person if serving as a supper dish with a salad. Please note, you will have to serve them immediately because, after you remove jacket potatoes from the oven, they lose their crispness very quickly, so don't let them hang around for too long.

Top Review by Debbwl
Better than any restaurant! It was a toss-up as to what we liked more the skins that crisped up ever so nicely or the rich cream inside that was the perfect balance of herbs, garlic and cheese. The very crispy skins also make it very easy to scoop out and then refill these tasty potatoes. Asked the produce guy about Desiree and King Edward potatoes and he recommended using Russets so that is what I used along with the cream cheese option. Thanks so much for the post.
Pre-heat oven to gas mark 5/375F/190°C.
Wash the potatoes and dry them very thoroughly with a cloth, then leave them aside to dry as much as possible.
Next, prick the skins a few times all over with a fork, then put a few drops of olive oil over each one and rub it all over the skin followed by some crushed salt.
Place the potatoes on to the centre shelf of the oven and let them bake for 1¾-2 hours, or until the skins are really crisp.
Meanwhile, pre-heat the grill.
Once the potatoes are cooked, remove from the oven, protect your hands with a cloth, slice them in half then scoop out the cooked potatoes into a bowl (careful not to tear the skin).
Then combine the potato with the cottage cheese or cream cheese, butter, garlic and herbs and season with salt and pepper.
Pile the mixture back into the potato shells, sprinkle each half with the grated cheddar and pop them under the grill until they are brown and bubbling.